FOR SALE!!!
frame-off restored

one owner
1987
Buick Grand National Hardtop
Rare digital dash

$54,900.00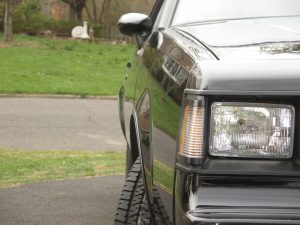 Too much to list!!!!!!
Highlights
– Richard Clark rebuilt motor with warranty for normal driving
– Back to bare metal bodywork and paint
– Frame-off restored
– New interior with RARE NOS black and gray palex
– Fully restored center console and steering wheel
– New suspension with new body bushings
– Radiator support, and inner fenders are powder coated for long live
– NOS tail lens, marker and parking lights
-NOS emblems to be installed after final buffing
-NOS rims, tires and center caps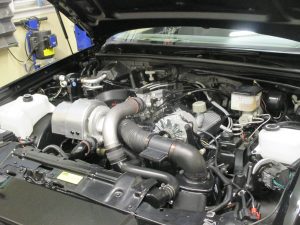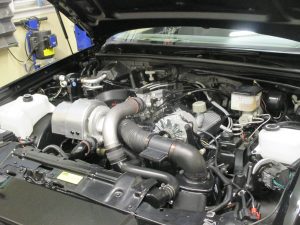 This vehicle is being meticulously restored with every effort being made for a historically correct restoration.
This is a challenging project as the car has low miles and was only titled once. For this reason more effort is required to save and work around the parts of the vehicle that have been preserved. This includes many parts, inspection marks and tags from the assembly line.
After being driven for only 18,938 miles the car was parked and was discovered in a field in February, 2017. Our research continues on this find and information will be updated, as it becomes available.
Vehicle options:
Power windows
Power door locks
Tilt wheel
Cruise control
Concert sound
Power antenna
Duel remote mirrors
Rear window defroster
Posi rear
Vehicle also comes with original owner's manual, tire and vehicle warranty book as well as maintenance book, AC Delco radio instruction book, original 1987 sales brochures and a copy of the original dealer invoice.

Chassis
Body lifted off vehicle. Frame was stripped and painted.
Every effort was made to replace all of the factory markings on the driveshaft, differential, control arms etc.
All fuel and brake lines are new or in "like new" condition
All body bushings were replaced with new polyurethane bushings including the GNX bushing
New powder coated front and rear springs. New front and rear shocks. New front upper control arms refurbished front lower control arms with new bushings and ball joints. Upper and lower rear control arms also refurbished
Rear completely serviced gears, fluid and axle
New brakes, new calipers, rotors, drums and pads. Completely rebuilt Power master brake system done by Richard Clarke.
New stock replacement exhaust system for the original neat look and authentic turbo Buick sound
Original like new factory Grand National rims with NOS center caps and lug nuts.
Motor
This is an 18,000 original mile motor. The motor was taken down to the long block, which is in absolutely perfect condition without even a bit of sludge.
Refurbished intake manifold with all NOS or refurbished parts. NOS parts include fuel rail, vacuum lines, pcv valve and hose, fuel regulator, plenum, IAC control, EGR control, coolant lines and more. The motor looks and acts showroom new.
Rebuilt factory radiator
Original exhaust headers with high heat ceramic coating
New Limit Engineering (1 year warranty) turbocharger with new actuator and rare NOS turbo vacuum lines
Correct new A/C Delco battery
New motor mounts
Vehicle body
While body was off the frame the belly was stripped and painted.
All heat shields were refurbished. Inner fenders and radiator are powder coated for long life.
Paint work
No time or expense spared
With glass and interior removed the body was hand stripped to bare metal.
Hood, header, bumpers, fillers, fenders, doors, trunk lid all removed. The car was free, with no rot.
All parts were body worked as needed and the entire car was worked until metal was perfect for paint. Primed and blocked sanded and primed again before final block sanding. Hundreds of hours went into the bodywork alone for a beautiful paint job.
Interior
This is perhaps the hardest part of a Grand National to restore as very little NOS interior parts exist.
Seats and door cards are new done with RARE!!! NOS date coded gray and black palex. This interior is factor new.
New or authentic reproduction interior parts include, console, door escutcheons, carpet, steering wheel, signal stalk, horn ring, window and door lock switches, dash bezel and a completely rebuilt speedometer/ dash cluster, speakers, speaker cover and more…
1987 Buick Grand National hardtop
Titled only once in the summer of 1987 and is a real numbers matching find.
After being driven for only 18,938 miles the car was parked and was discovered in a field in February on 2017.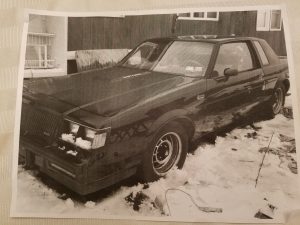 Back together she goes
These floors are so nice it seems a shame to cover them. But all of our cars get top quality sound deadening material. This helps keep road noise and heat out our the passenger compartment.
Complete NOS interior
More bodywork
Reflection in driver's fender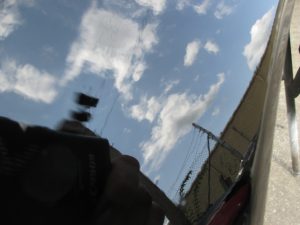 Steering
New wheel, horn ring, signal stalk, tilt lever
The hood always needs the most work. This was stripped to bare metal, body-worked as needed and then skim coated for a smooth finish
Resting in primer them back to the body shop for sanding and paint
Assembly
Exhaust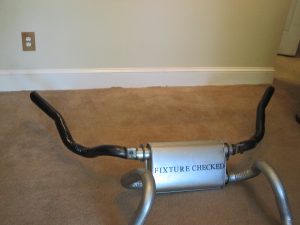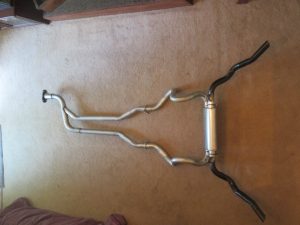 Runs Great!!!
Trunk freshly painted
No rust looks like new!!!
Interior
Brand new center console. Beautiful clean black and gray colors with nice shinny fresh chrome stripe. New recovered seats with RARE NOS gray and black date coded palex material. No time, or expense spared and no corners cut. The result will be an interior that is like factory new!
Engine restoration
Bodywork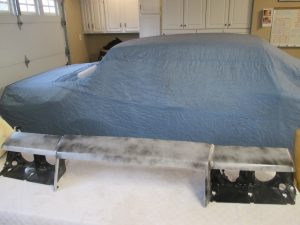 The Evaluation
Each area of the vehicle is carefully examined and photo-documented. The evaluation becomes the basis for the restoration plan.
The disassembly
Each area of the car is carefully disassembled, with each part photographed and labeled. From there the parts are either replaced with NOS or restored. With this car being such a rare find we will take care to restore back too new every, nut, bolt, bracket, part we possibly can.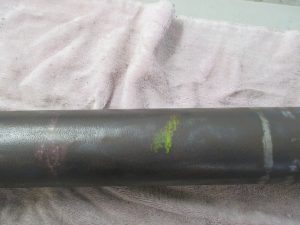 Bodywork
Interior
The Restoration
Chassis
Engine and engine compartment