Nicknamed the "Long Island Express"
With car here for the winter we decided to take the extra time to do some upgrades. The digital dash only reads to 85 MPH and then flashed. This was a feature from the factory. The trip odometer reset never quite worked right and was loose.  So we removed the dash to make the repairs and upgrade the speedometer to read the speed past 85 MPH and display all 3 digits to show speeds in past 100 MPH
Very nice NOS original hood pad
A/C was ungraded with a restored and powder coated can and R134 charge fittings
Nice original set of rims with original chrome new center caps and lug nuts. Also have the correct grey valve stem cap with the point at the top to adjust air pressure.
Basic new tires that are the correct size and profile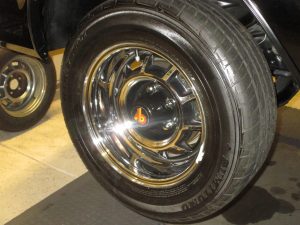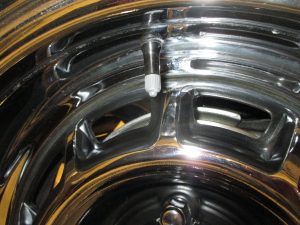 Very nice original jack with all of the correct hardware. Not so easy to find these days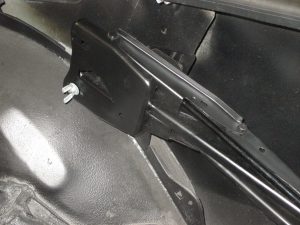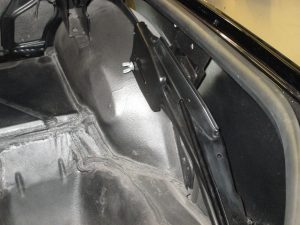 Very nice unused stare tire also with the correct valve stem cap
Fresh new trunk carpet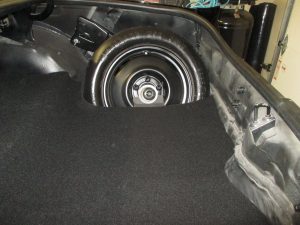 She is now getting the final panel fit.
Then:
Bumpers and trim
Lights
Exhaust and then we get her running
Paint is being wet sanded and buffed for its final finish
Beautifully restored new intercooler
Hard to find original Grand National radiator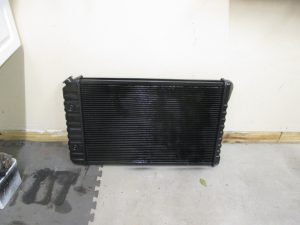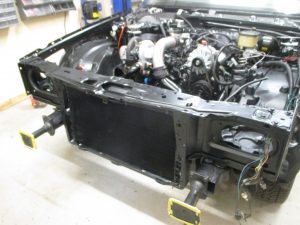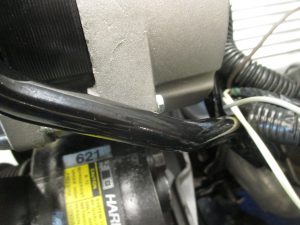 Powder coated alternator bracket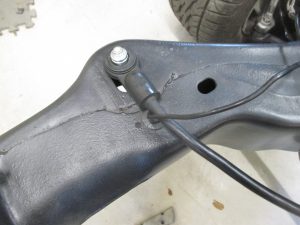 Restored neg battery cable
Powder coated inner fenders and restored wheel wells
New belt tension-er (under warranty)
Original restored alternator (Under warranty)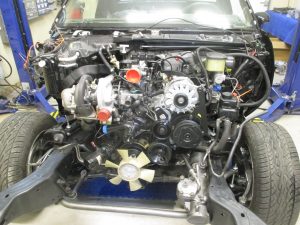 More coming today
This car is entering into its final stages. Before we continue we would like to take a moment to remember my Dad. It has been a while since we posted pictures as the better part of 2018 we spend much time with our Dad as his illness progressed. Sadly he passed away in January 2019. Dad was a man of many talents, Farmer, Baker, Lawyer and a great Dad. He also loved hobbies and took a genuine interest in other peoples hobbies. This car was interesting to him because it came from Long Island and he grew up in the Newark, NJ /New York area.
He was even king enough to travel to Bowling Green Kentucky to see Nancy's car win first place in her class at the GS Nationals. I could spend hours writing about him so suffice to say we are going to dedicate this build to him
Russell SR
1934-2019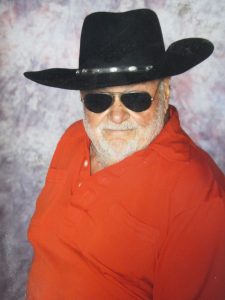 Now for the update: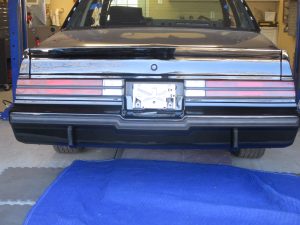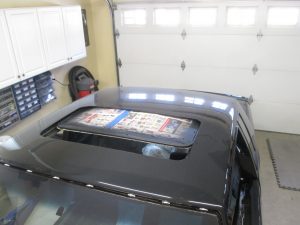 New water pump painted the correct engine black as was from the factory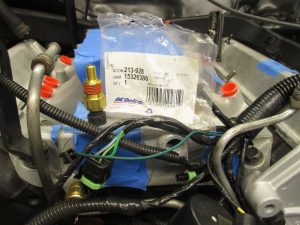 We only use the correct AC Delco senders
The entire power-train is installed, motor, transmission, driveshaft and rear. Today the we are putting the rear parts on the car, taillight, bumper fillers and bumper.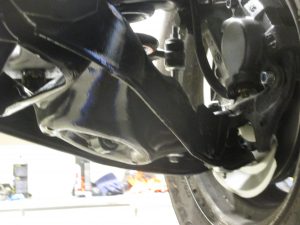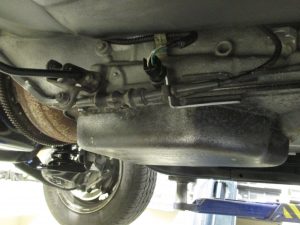 Don't mind the old transmission pan. That stays on until the final fluid change. Then we replace it with a fully restored original pan.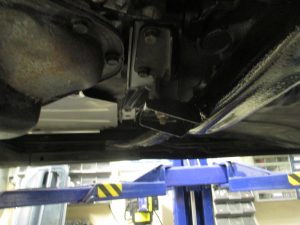 All new transmission mounts and powder coated cross member
This is another wonderful find from the Great State of New York. This is a true 8000 original mile factory CF5 sunroof car. This low mileage car is a real diamond in the ruff, which is going to receive a complete frame-off restoration. Very little is know about this car thus far so we are working on a complete history to tell the story of this rare vehicle as it gets a new lease on life back to showroom new.
Sunroof assembly is in rough shape. A drain tube was clogged and a lot of water sat in the assembly. The track are rusty and somewhat corroded.
This may be beyond repair. When its being held together with duct tape we may have to find another one.
Sunroof drain hoses as you can see the front driver's side is clear but the front passenger's side was crushed inside the door hinge and created a water back-up into the assembly.
Trunk has been stripped, sealed and painted.
Ready for primer
Restored Powermaster brake system with powder coated brackets so no more rusty brackets
Bumpers
Bumpers can be a challenge over time the bolts get rusted and can  become difficult to remove. These bumpers took over 5 hrs just to disassemble. However the bumper have no dent, ding or bondo and are nice and straight.
Front suspension
Fire wall etc.
Before
After
Front lower controls arms Powder coated and all new bushings and ball joints
Completely restored engine wire harness with new connectors, looms and heat resistant tape.
Powder coated A/C heat shield and fire stripped and painted to factory color.
Engine
The long block is in wonderful condition. Oil was a nice amber, no sludge anywhere and no loose metal. It will get all new seals, gaskets, sensors and senders. Including a super rare NOS EGR vale and controller
Interior:
To keep our projects moving along interior components are restored simultaneously with other parts of the car.
Below if the restored steering wheel, console seats. The seats have been restored with original date coded gray and black palex material. Each car if done with material from the same role so that the color matches perfectly.
Engine compartment
to insure long life and durability the inner fenders, radiator support and cover are powder coated in a color that is almost a perfect match with to the original color. All related brackets and hood hinges are also done with same color for a matching engine compartment
The frame and firewall
Work has begun to prep the firewall and front frame rails for refinishing. this will also be the time all of the engine compartment wiring will be fully restored.
More work is already complete and more pictures are coming soon……
Restored driveshaft including original factory markings.
The transmission was removed and inspected. The fluid is a nice cherry red with no burnt odor. It will get a complete servicing with a new filter gaskets etc.
In order front clip, motor accessory and motor disassembly. Each item is removed labeled and stored with its specific nuts and bolts. Every item removed will be replaced or restored.
Many more pictures on the way!!!!! Including items that have already been restored for you car.
Metal of body sanded and ready for list stage of body work. Many hours went into getting the metal flat for the epoxy spray stage
The old rusty body bushings have been replaced with top of the line bushings included the addition of the GNX bushing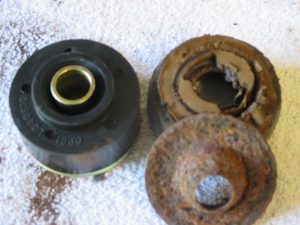 Rear suspension completely restored with show quality powder coated springs and heavy duty shocks and aluminum billet high performance brake drums
Under area of trunk was stripped and painted with a 2 part chassis paint, rear frame rails also done and original muffler brackets completely restored. Also note that the letter "P" was also restored in the factory color. The "P"  was written so that the person on the assembly line knew that this car received a POSI rear.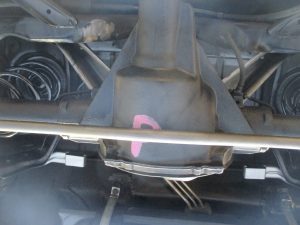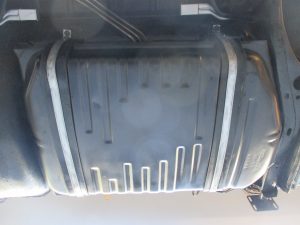 Fuel tank was dropped and restored to factory new you can now read the original part number from Canada
Alarms and such……
These are all the wires that don't belong in a turbo Buick. Many years of alarms and remote start systems leave yards of wires that don't belong and many original wires missing or damaged. All of the offending wires were removed and and repairs/replace made to the original wiring.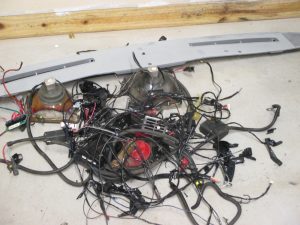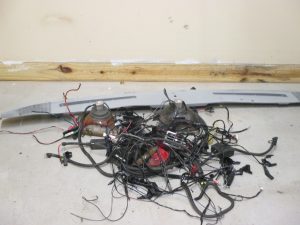 Body exposed…..
The main body of this car is solid, with no dents or bondo.
Floors are in great shape, only surface rust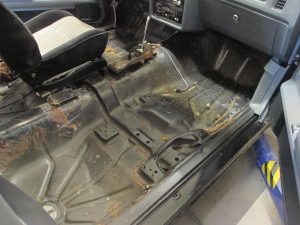 Body stamp found. This body was produced April 22, 1987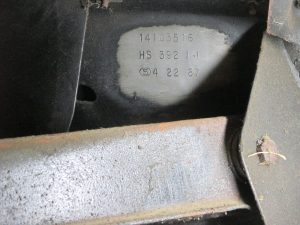 New/restored factory suspension with aluminum brake drums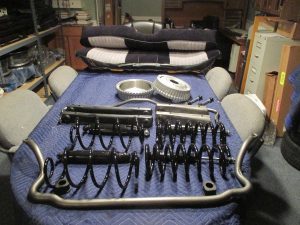 Old suspension has seen better days. We did uncover some of the original makings including the "P" painted on the rear indicating that the car has a Posi rear.
New rear end has been restored and test fit in the car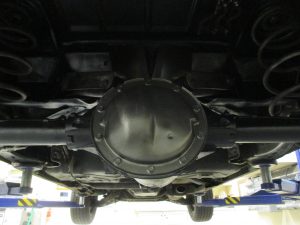 Rear before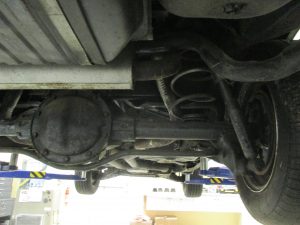 The trunk has extensive rust and both doors have a lot of rust on the lower edge.
Tune in to the build, much more to come……………..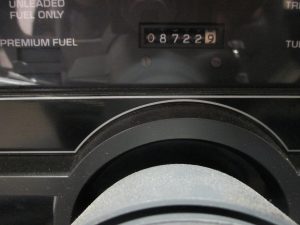 Disassembly
All of our cars a carefully taken apart with each part cataloged, labeled and stored.