"For Dad"
1987 Buick Grand National hardtop
In 1987 John's Dad purchased a brand new Buick Grand National, John was just 8 years old but knew immediately that the Grand National was his favorite car and he would some day own one for himself.
Sadly John's Dad sold their Grand National and owning his won Grand National was now just a dream until……
Returning home from work one day in 2005 John stumbled across this 1987 Grand National Hardtop "for sale". The car was in need of some real TLC but was operational. John decided to drive and enjoy the car until a restoration was imperative.
Their have been many bumps in the road for John and his Dad but now the time has come for this Father/son team to bring this American icon back to its former glory.
As best we know so far this was a complete car that went to a body shop to be painted. Some time later the car was rescued with a questionable paint job and the rest of the car piled into boxed with nothing labeled.
After weeks of inventorying the remaining parts and sourcing many of the missing parts we are ready to take her apart and bring her back to her former glory.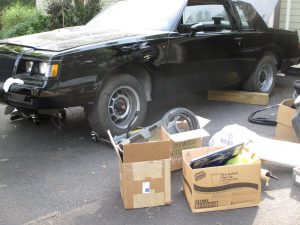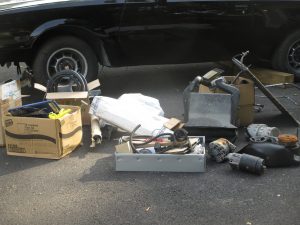 Quite a bit of primer over spray. No worries as the  entire underside of the car will be painted as part of the complete restoration.