Frame-off restored
Rare 1987 Buick Grand National
Factory CF5 astro-roof car
AVAILABLE NOW
$39,500.00
SOLD!!!!!!!!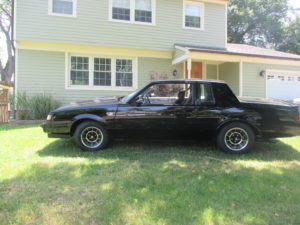 The History of 1987 Buick Grand Nation
Factor CF5 Atsroroof car
VIN# 1G4GJ1171HP416683
Stillman & Hoag Buick of Englewood, New Jersey ordered this vehicle in November 1986. At that time the dealership was managed by Walter R. Stillman, who recently passed away in October 2015. Mr. Stillman was the son of automotive hall of fame member Walter W. Stillman. Walter W. Stillman took over the dealership in 1937 from his father, who founded the company in 1908. After assuming the business operations Walter W. was the first to go door to door inviting families to test-drive vehicles. He often displayed new Buicks at the local railway station for train passengers to see. Hence he is considered one of the great automotive sales innovators. Walter W. instilled a strong work ethic, which was often displayed by his son Walter R. Stillman who took over the duties at the dealership in the 1970s. It is said the Walter R. was aware of and part of almost every sale made during the 1970s and 80s at the dealership especially the "special" vehicles such as the Grand National. Mr. Stillman operated the dealership until 1999 when he sold the dealership to General Motors.
Our vehicle was invoiced in November 1986 and was sold some time in 1987 to a New Jersey owner. From there the vehicle was on a journey that took it to four states that we know of.
From:
1987 (purchased in Englewood, NJ) until 1997 the vehicle was in New Jersey.
1998 until the early 2000s the vehicle was in Florida where it spent some time at Chang's Car Care Inc.
2001 until 2012 the vehicle returned to New Jersey, which included Toms River, Rutherford and Cliffwood, New Jersey. The owner at this time was Harry, who purchased the vehicle while it was in New Jersey. He did very little to the vehicle and said that the modification done to the car where installed when he purchased it. The modifications included an alarm and radio system and a larger intercooler and turbo.
2012 the vehicle was sold to Robert in Pennsylvania who lived just blocks from our home but we never met Michael or saw the car. Michael purchased the car with hopes of restoring it but decided against considering the work involved.
2012 the vehicle was sold to a young musician named Michael and the vehicle was driven to Hampstead/Windsor Mill Maryland. Michael only had his driver's license for 2 years and this was one of his first vehicles
2014 Christmas day we purchased to vehicle from Michael on ebay and trailered it back to Pennsylvania.
2016 the vehicle is completely restored and is like new and
READY FOR ITS NEXT OWNER AND ADVENTURE!!!!!!!
Vehicle options:
Power windows
Power door locks
Tilt wheel
Cruise control
Power seat
Power trunk release
Concert sound
Power antenna
Duel remote mirrors
Rear window defroster
Factory atsro-roof
Posi rear
Vehicle also comes with original owner's manual, tire and vehicle warranty book as well as maintenance book, AC Delco radio instruction book and original 1987 sales brochures and a copy of the original dealer invoice.
Chassis
Body lifted off vehicle frame was stripped and painted.
All fuel and brake lines replaced as need most lines are brand new
All body bushings were replaced with new polyurethane bushings including the GNX bushing
New powder coated front and rear springs. New front and rear shocks. New front upper control arms refurbished front lower control arms with new bushings and ball joints. Upper and lower rear control arms also refurbished
Rear completely serviced with gears, fluid and axle
New brakes, new calipers, rotors, drums, pads and all new brake lines and solid brass brake proportioning valve. Completely rebuilt Cardone Power master brake system
New fuel system, new fuel tank, sender, high volume pump most fuel lines are new, new fuel filter and bracket
New stock replacement exhaust system for the original neat look and authentic turbo Buick sound
Original like new factory Grand National rims with NOS center caps and lug nuts. The tires are new Goodyear Eagle GT's made from the original mold but made new.
Motor
Completely rebuild and balanced engine.

Refurbished intake manifold with all NOS or refurbished parts. NOS parts include fuel rail, vacuums line, pcv valve and hose, fuel regulator, plenum, IAC control, EGR control, coolant lines and more. The motor looks and acts showroom new.

Rebuilt factory radiator

Rare NOS A/c condenser black facing out and silver facing in.

Original exhaust headers with high heat ceramic coating

New Limit Engineering (1 year warrantee) TA 49 turbocharger with new actuator and rare NOS turbo vacuum lines

Correct new A/C delco battery

New motor mounts
Vehicle body
While body was off the frame the belly was stripped and painted.
All heat shields were refurbished, cat and fuel lines and starter were replaced.
New front windshield and rear glass, all other glass is original.
Paint work
No time or expense spared
With glass and interior removed the body was blasted to bare metal.
Hood, header, bumpers, fillers, fenders, doors, trunk lid all removed. Very little rust was found on the car other than the door skins, which were replaced with new Goodmark skins.
All parts were body worked as needed and the entire car was skim coated. Primed and blocked sanded and primed again before final block sanding. Hundreds of hours went into the bodywork alone for a flawless paintjob.
Interior
This is perhaps the hardest part of a Grand National to restore as very little NOS interior parts exist.
Seats and door cards are new done with RARE!!! NOS date coded gray and black palex. This interior is factor new.
New or authentic reproduction interior parts include, console, door escutcheons, carpet, steering wheel, signal stalk, horn ring, window and door lock switches, dash bezel and a completely rebuilt speedometer/ dash cluster, speakers, speaker cover and more…